Women's Adventures NZ spent 10 days cycling in Samoa, here were some of the highlights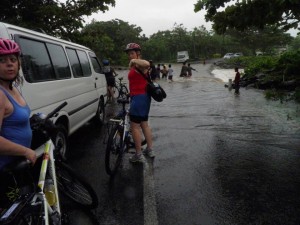 From Day 2: Our first stop was the huge covered market to get some supplies for the trip.  We had a couple of picnic lunches to buy for.  The idea was to get the food, load it into the van, cycle off to a nearby swimming hole and have a lovely picnic in the sunshine……Yeah right.  We ended up having our lunch inside the market place as the rain pelted down outside.  No guttering on the roof meant it was like walking through a waterfall to get onto our bikes.  But, hey, we all reasoned, once you're wet, you're wet.  So off we set in our shorts and singlets (no need for raincoats as it's so warm and you dry out so quickly once the rain stops.)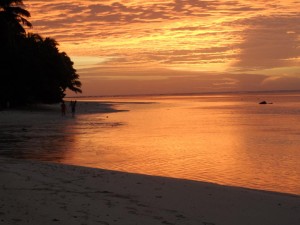 Highlight of the day from Day 3 :  Sitting at the beach bar, with everyone, watching this amazing sunset, feeling very happy and satisfied with life!
Day Five – Mon June 3rd 2013 – Rest Day at Vaisala: We swam, we snorkeled, we kayaked, we rested, we wrote in our journals…..  I did a stretch/yoga class for some of the group.  Some of us walked, cycled or taxied down the road to Vaimoana for lunch. It was wonderful to have this extra day of rest.
Day Seven – Wed June 5th 2013 –Falealupo to Satuiatua  – 38km:  The cycle today was I think one of my favourites.  The top of the island has a lovely remote, off the beaten track feel to it.  We cycled along the sandy pot holed roads, heaps of palm trees lined up along beautiful white sandy bays…..
As we rode back out onto the main road it started gently raining and continued for a lot of the 38km which was actually really nice.  There were quite a few hills and we had lots of rest stops with everyone in the group doing really well and all being so supportive of each other.
Read the rest of the story here
See their Latest Tours Here